How We're celebrating Valentine's Day This Year:


Last year we could not go out to dinner on Valentine's Day as we were under house arrest during what our region will forever remember as
"The Valentine's Day Storm,"
where the snow accumulated over two feet in some areas.
This year we're going to avoid the snow all together. We are going on a four day cruise aboard the Majesty of the Seas, a recently remodeled cruise ship belonging to Royal Caribbean.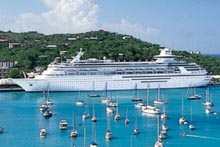 Our four day itinerary through the Bahamas begins in Miami on Monday. From Miami we go to Nassau, Coco/Little Stirrup Cay, Key West, then back to Miami on Friday. We have yet to plan our excursions at our stops, but we look forward to sight seeing and relaxing in a warmer climate, guaranteed blizzard free.
Our decision to go on Valentine's Day week actually had nothing to do with the occasion, it just happened to be the week that worked best with our work schedules, but is there any better way to spend the romantic holiday?!
It's too difficult to travel with my beading and jewelry making supplies, so intend to practice my knitting to keep my fingers busy while traveling and sitting in the sun.
Be sure to check out other EtsyBloggers Valentine's Days of the past, present, and future at
Tulips Treasure Box Blog
on February 11
th
!